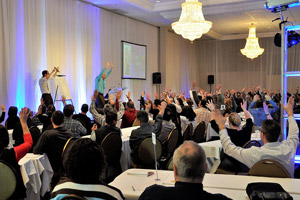 OUR WORKSHOPS-CONFERENCES
(Eligible for the 1% law on in-company training)
Do you want to increase team spirit within your company, strengthen cohesion and create optimal synergy between your employees?
Les Productions Organijeu offers you a dynamic, interactive and entertaining team-building workshop formula where you will be led to put into practice the notions acquired in the conference portion through fun and innovative challenges. This game-based training approach aims to foster awareness about oneself and within the group in order to excel together.
Our experiential approach aspires through an effective combination of workshops, conferences and various teambuilding activities arranged in a conducive environment, to develop an optimal state to promote the learning of theoretical teachings on teamwork. In a dynamic and interactive context established within the group, the goal will be to excel together towards one or more common goals.
Our trainings incorporate the following objectives
in order to keep the group in action:
Have fun
Live a positive and energizing group experience in a context outside of work
Get to know each other better (build on the team's common strengths and qualities)
Promote the key elements that contribute to the success of a winning team (3C): trust, communication and collaboration
We aim to develop skills related to the success of teamwork. In a supportive location with supportive leadership, the group will actively participate in the planning process prior to each proposed challenge. We rely heavily on the physical and mental involvement of participants to raise awareness and promote the emergence of ideas and solutions to the challenges proposed.
As it is proven that the learning of knowledge and retention in dynamic and interactive mode where the team actively participates is much higher, several training courses are available to you in order to effectively target your needs and objectives according to the following themes:
The foundations of teamwork
Vision, mission and common target
Get to know each other better
Maintaining a climate of trust
Communicate better as a team
Better collaborate to better mobilize
The strengths of a winning team
High performance and quality within the team
Crisis and conflict management
The pleasure of team play makes it possible to draw a parallel with the objectives of the training. Create a real impact on the efficiency, productivity and profitability of your company by bringing about a lasting change in organizational dynamics.
Are you ready to take action?
Details
The interactive workshops-conferences take place indoors or outdoors and are all supervised by the team of professionals from Productions Organijeu who are accredited by the Commission des Partenaires du Marché du Travail.
The content of each program is personalized and determined by Organijeu's professionals in collaboration with the client.
The duration may be from 1 h to 3 h, depending on the chosen formula. All our services are offered in a turnkey and personalized formula. In addition to the description of the different services, our fees include all the customer follow-up, the personalized design, the transport and the layout of the space according to the required needs.